William Forsythe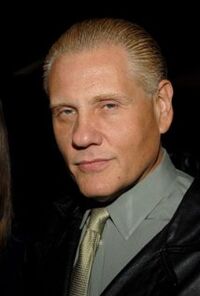 Birthplace
Bedford-Stuyvesant, Brooklyn, New York
William Forsythe - born on June 7, 1955 (1955-06-07) (age 62) in Bedford-Stuyvesant, Brooklyn, New York, USA - is an actor. He guest stars as Michael in the fifth season episode, "Whistle Past the Graveyard".
Early Life
Edit
Forsythe was born in Bedford-Stuyvesant, Brooklyn, and grew up in the neighborhoods of Flatbush and Old Mill Basin in Brooklyn. While in Flatbush he attended nearby Holy Cross School located on Church Avenue, graduating 8th grade in 1969. He continued on to Nazareth High School, now known as Nazareth Regional High School and transferred to South Shore High School for his senior year graduating in 1973.
He is frequently cast in "tough guy" roles such as criminals or law enforcement officers. He has appeared in many films such as the deformed mobster Flattop in Dick Tracy starring Warren Beatty, and as crime racket leaders such as Richie Madano in the 1991 Steven Seagal film, Out for Justice. He also portrayed organized crime figure Sammy "The Bull" Gravano in the HBO telefilm Gotti and Ronnie in Rob Zombie's 2007 remake of Halloween (with Lew Temple, Pat Skipper and Mel Fair), He Portrays a Tough Sheriff in Another Rob Zombie movie called The Devil's Rejects (with Lew Temple and Chris Ellis). He portrayed serial killer John Wayne Gacy in Dear Mr. Gacy, a film adaptation of The Last Victim, the memoirs of Jason Moss, a college student who corresponded with Gacy his last year on death row. The film was released in 2010. He also appeared in Raising Arizona.
Television
Edit
He played Al Capone on the TV series The Untouchables. In addition, Forsythe has guest-starred on numerous television shows, including Tales of the Gold Monkey, FAME, Hill Street Blues, Cybill, Shark and Las Vegas. He also appeared as the lead singer of the fictional punk rock band "Pain" in an episode of CHiPs. He also starred in the Masters of Horror episode, We All Scream for Ice Cream. On March 1, 2010 he guest starred on a Rob Zombie-directed episode of CSI: Miami titled "L.A.". He played one of the main characters "Digger" in the series John Doe. He played Manny Horvitz, a Philadelphia mobster, in the second and third seasons of Boardwalk Empire, Constantine Alexander on the FOX drama series The Mob Doctor, and Steve Rigsby in The Mentalist.
Ad blocker interference detected!
Wikia is a free-to-use site that makes money from advertising. We have a modified experience for viewers using ad blockers

Wikia is not accessible if you've made further modifications. Remove the custom ad blocker rule(s) and the page will load as expected.