Will Sasso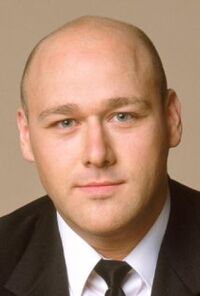 Birthplace
Ladner, British Columbia, Canada
Will Sasso - born William Sasso on May 24, 1975 (1975-05-24) (age 42) in Ladner, British Columbia, Canada - is an actor and comedian. He had a recurring role in the fifth season as Al Sura. He is best known for being a cast member for five seasons on the FOX sketchy comedy series MADtv from 1997 to 2002 and for starring as Curly in the 2012 reboot of The Three Stooges.
Early Life
Edit
Sasso was born in Ladner, British Columbia, Canada. His parents are Italian immigrants. He graduated from Delta Secondary School in Delta, British Columbia in 1993. He credits his determination to become an actor and his respect for comedy to an "unhealthy addiction to television".
Ad blocker interference detected!
Wikia is a free-to-use site that makes money from advertising. We have a modified experience for viewers using ad blockers

Wikia is not accessible if you've made further modifications. Remove the custom ad blocker rule(s) and the page will load as expected.