W. Earl Brown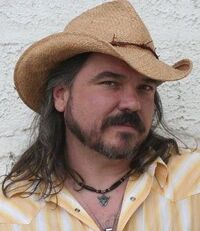 Birthplace
Murray, Kentucky
Birthdate
September 7, 1963
W. Earl Brown - born William Earl Brown on September 7, 1963 (1963-09-07) (age 53) in Murray, Kentucky - is an American actor who guest starred as Cal Wallace in the FX series Justified Season 1 episode, "Blowback".
Biography
Edit
Early life
Edit
Brown was born in Murray, Kentucky, and is an alumnus of Calloway County High School. He graduated with a bachelor's degree in theater from Murray State University before going on to DePaul University in Chicago where, with his classmates John C. Reilly and Gillian Anderson, Brown received his master's degree. While building his résumé in Chicago's theater scene, Brown decided to give Los Angeles a try and moved to the City of Angels where he has remained ever since.
Personal life
Edit
Brown has gone by the name Earl his entire life, but added his first initial to his official SAG credit to avoid confusion with Earl Boen. He is married to his high school sweetheart Carrie Paschall, with whom he has one daughter.
His first major movie role came as a dialogue coach in the film Backdraft teaching actors to speak with a Chicago accent. He also had a brief appearance on-screen in the film. One of his first higher profile roles was as Cameron Diaz's mentally challenged brother Warren in There's Something About Mary.
His other film credits include Scream (1996), Being John Malkovich (1999), Dancing at the Blue Iguana (2000), and The Alamo (2004) among many other projects, including television appearances on Numb3rs (2006), CSI: Crime Scene Investigation (2000), Six Feet Under (2001), Charmed (2001), and The X-Files (1993). He is also the co-founder of the country band Sacred Cowboys, performing as a vocalist and guitar player.
Brown joined the cast of the HBO western drama Deadwood as a star for the first season in 2004. The series was created by David Milch and focused on a growing town in the American West. Brown played Dan Dority, a trusted henchman to ambitious criminal and bar owner Al Swearengen. Brown remained a starring cast member for all three seasons of the show. Brown joined the crew of Deadwood as a writer for the third season in 2006. He wrote the episode "A Constant Throb".
External links
Edit
Ad blocker interference detected!
Wikia is a free-to-use site that makes money from advertising. We have a modified experience for viewers using ad blockers

Wikia is not accessible if you've made further modifications. Remove the custom ad blocker rule(s) and the page will load as expected.