Todd Stashwick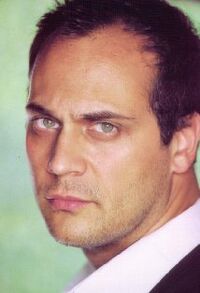 Birthplace
Chicago, Illinois, USA
Birthdate
October 16, 1968
Todd Stashwick - born October 16, 1968 (1968-10-16) (age 48) in Chicago, Illinois, USA - is an American actor who had a recurring role as Ash Murphy in the third season of the FX series Justified. He made his screen acting debut in 1997 on Remember WENN. He has appeared in Spin City, Angel, Diagnosis Murder, Close to Home, Buffy the Vampire Slayer, CSI, American Dreams, The Guardian, Malcolm in the Middle, CSI: NY, Crossing Jordan, How I Met Your Mother, Studio 60 on the Sunset Strip, The War at Home, Law & Order: SVU, Weeds, Life, The Mentalist and Curb Your Enthusiasm. He has had recurring roles in The Riches and Heroes.
Ad blocker interference detected!
Wikia is a free-to-use site that makes money from advertising. We have a modified experience for viewers using ad blockers

Wikia is not accessible if you've made further modifications. Remove the custom ad blocker rule(s) and the page will load as expected.