Stephen Tobolowsky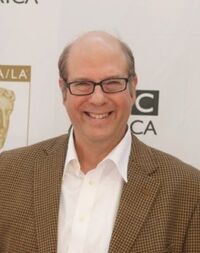 Name
Stephen Harold Tobolowsky
Stephen Tobolowsky - born on May 30, 1951 (1951-05-30) (age 66) in Dallas, Texas - is an American actor who had a recurring role as Jerry Barkley in the third and fourth season of the FX series Justified.
Biography

Edit
Personal Life

Edit
Tobolowsky is Jewish and attended Southern Methodist University (SMU). He and his wife, actress Ann Hearn, have been married since 1988 and have two children.
Tobolowsky has appeared in over 200 films and at least as many television projects with mostly minor roles. In 1994's Radioland Murders, he portrayed Max Applewhite, a gentle sound man with a dark secret. He appeared on Seinfeld as Tor Eckman, Kramer's holistic healer, in the second season episode, "The Heart Attack". He is also known for having played "Sammy Jankis" in 2000's Memento, starring Guy Pearce. In 2005, he was the eponymous subject of the documentary film, Stephen Tobolowsky's Birthday Party, that featured him preparing for, and hosting, his own birthday party, while delivering a series of anecdotes from his life. He was a member of the cast of NBC's television series Heroes for its second season, portraying Bob, the new boss of "The Company".
Tobolowsky is well known for his role in the 1993 film Groundhog Day, in which he played Bill Murray's annoying former high school classmate—now insurance salesman—Ned Ryerson. Tobolowsky wrote his last scene in Groundhog Day while filming and it was accepted by Bill Murray and the director Harold Ramis. Tobolowsky reunited with Murray 11 years later, appearing in the movie version of the comic strip Garfield, playing the sinister dog trainer Happy Chapman, with Murray providing the voice of Garfield.
He has worked in the theater as well, directing and acting in plays in New York, San Francisco and Los Angeles. He directed one movie, Two Idiots in Hollywood, based on his play of the same name. He also co-wrote the film True Stories with David Byrne and then-girlfriend Beth Henley. He was nominated for a Tony Award for Best Performance by a Featured Actor in a Play for the 2002 revival of Morning's at Seven.
Ad blocker interference detected!
Wikia is a free-to-use site that makes money from advertising. We have a modified experience for viewers using ad blockers

Wikia is not accessible if you've made further modifications. Remove the custom ad blocker rule(s) and the page will load as expected.