Scott Anthony Leet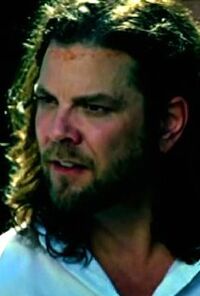 Birthplace
San Francisco, California
Birthdate
December 26, 1962
Scott Anthony Leet - born on December 26, 1962 (1962-12-26) (age 54) in San Francisco, California, USA. He guest stars as Henry Granger Sr. in the fifth season episode, "Good Intentions".
Biography
Edit
Scott Anthony Leet is a chameleon in the truest sense of the word.
His different movie characters range from a Mississippi ex-con (Out in 50), to a fiery bassist via Belfast, Ireland (Groupie), to a homosexual pedophile serial killer (Freeway Killer), to an Irish security expert, who gets reanimated by scientists and progresses from helpless infant to impudent teen to intellectual savage (The Prometheus Project). Leet also worked with the amazing Todd Phillips on "The Hangover 3" as well as with famed director, Ben Affleck, on "Argo" which won best picture at the 2012 Academy Awards.
Scott Anthony Leet is also a seasoned TV actor having appeared in many high profile shows playing a wide array of characters. He has guest starred as a sadistic leader of a biker gang (Rush Hour), a ruthless heroin trafficker (Castle), a vengeful Kentucky father (Justified), an Irish father pursuing his kidnapped child (The Mentalist), a bad-ass biker (Californication), a cockney security expert (Cinnamon Girl), a super dumb biker gang leader (Friend Me), a vicious murderer (CSI: Miami) and a sarcastic camera man (Up All Night). On Cinemax's series (Chemistry), Leet played a wily ex-con cowboy country singer named "Highway" for which he wrote and sang his own original songs live. Other examples of Leet's varied guest star work include the evil King Kalakai on Disney's hit (Pair of Kings), a hillbilly Virginian bear tracker accused of murder (NCIS), a tough Philadelphia dock worker (Cold Case), a murderous auto mechanic from Alabama (CSI)...and the list goes on.
Not surprisingly, Leet has starred opposite some of Hollywood's top acting elite like Mickey Rourke, Ben Affleck, Renee Zellwegger, Tim Olyphant, Eric Roberts, Christina Applegate, Mark Harmon, Michael Rooker, Mimi Rogers, Simon Baker, Kathryn Morris, Brittany Murphy, Taryn Manning, Peter Bogdanovich, and Peter Greene just to name a few.
In addition to a career as the go to guy for playing "The Heavy", Leet dependably injects a sense of vulnerability and like-ability to even his most heinous characters by instilling them with a level of charm, wit and intelligence. He is well known for perfecting foreign accents and has the uncanny ability to switch between polar emotions in the blink of an eye. He can go from charming to ruthless, from composed to neurotic, from scarily creepy to outwardly decent, from controlling manipulator to vulnerable loner, all within seconds.
As a result, Leet has earned big respect amongst acting peers, casting folks and critics alike.
Finally, Leet has created his next (3) starring vehicles:
METHOD TO MADNESS (psychological thriller)
GOOD-TIME CHARLIE (family drama)
POWER BRAWL (action drama)
Ad blocker interference detected!
Wikia is a free-to-use site that makes money from advertising. We have a modified experience for viewers using ad blockers

Wikia is not accessible if you've made further modifications. Remove the custom ad blocker rule(s) and the page will load as expected.