Ron Yuan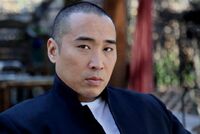 Birthplace
New York City, New York
Birthdate
February 20, 1973
Ron Yuan - born Ronald Winston Yuan on February 20, 1973 (1973-02-20) (age 44) in New York City, New York, USA - is an actor. He guest starred as Simon Lee in the fifth season episode, "A Murder of Crowes".
Life and Career
Edit
Yuan was born in New York City, New York, the son of Theresa and Joseph Yuan, and the brother of actor Roger Yuan.
Yuan has starred in films such as the 2012 Red Dawn remake, The Girl from The Naked Eye (as Simon), Shanghai Hotel (as Sharkman), Fast & Furious (as David Park), Baby (as Tommy), Cradle 2 The Grave, The Art of War (as Ming), Blood and Bone (as Teddy D), Forbidden Warrior (as Lank), Undoing (as Chang), as well as TV shows such as Awake (as Solomon Kang), Touch (TV series)(as Wember Hsu), NCIS:LA (as Yosh), Burn Notice (as Lee), Prison Break (as Feng Huang), Pushing Daisies (as Shrimpboy), 24, CSI:NY (as Dr. Evan Zhao), Entourage (as Chaing Chung), Monk (as Tommy Winn), Boston Legal (as Zhang Wu), V.I.P. (as Hirata The Black / Kazuo / Lucky), JAG (as Lee Kun-Tae), Nash Bridges (as Darrell Chang / Eliott Wong), Cold Case, Martial Law (as Dreads), Dr. Quinn, Medicine Woman (as Mr. Zou), Walker, Texas Ranger (as Jiang Chu), Alias, Black Sash (as Billy / Jing Li), Vanishing Son (as Crazy Boy 6) and more.
Yuan has also Directed Action and performed Stunt Choreography for such films as Black Dynamite, The Girl from The Naked Eye, Forbidden Warrior, Kung Pow! Enter the Fist, Windtalkers, Rush Hour 2, Batman Forever, Double Dragon, Chain of Command and Blade.
He has also provided his voice talents to video games such as Sleeping Dogs, Guild Wars 2, Saints Row: The Third, Uncharted 3: Drake's Deception, Spider-Man: Edge of Time, Spider-Man 3, Fallout: New Vegas, Medal of Honor, Army of Two: The 40th Day, Alpha Protocol, Indiana Jones and the Staff of Kings, Prototype, Command & Conquer: Red Alert 3 - Uprising, Borderlands 2, Command & Conquer: Red Alert 3, Guild Wars: Eye of the North, Def Jam: Icon, Command & Conquer 3: Tiberium Wars, Full Spectrum Warrior: Ten Hammers, SWAT 4: The Stetchkov Syndicate, 50 Cent: Bulletproof, S.W.A.T. 4, NARC, Golden Eye: Rogue Agent, Wrath Unleashed, Call of Duty: Black Ops II and more.
He has directed and written several short films so far, including Lollipops (2009), Three Bullets (2009) (starring Michael Jai White) and Tea and Remembrance (2009), starring himself and Marie Matiko. He is currently working on a feature project entitled "Unspoken" starring Russell Wong, Brian Tee, Will Yun Lee, Ian Anthony Dale and more.
Ad blocker interference detected!
Wikia is a free-to-use site that makes money from advertising. We have a modified experience for viewers using ad blockers

Wikia is not accessible if you've made further modifications. Remove the custom ad blocker rule(s) and the page will load as expected.