Romy Rosemont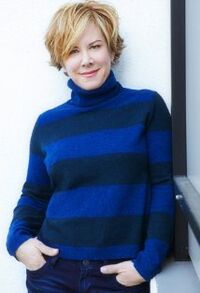 Romy Rosemont, is an actress. She had a recurring role as Sonya Gable in the fourth season.
Rosemont is a graduate of Northwestern University. Rosemont has had guest and recurring roles in various television series, including alongside James Woods and Danielle Panabaker in Shark, as well as in Cook-Off!, Boston Legal, Crossing Jordan, Friends with Money, Back to You and Me, Close to Home, Grey's Anatomy, Friends, Shopgirl, Ghost Whisperer, CSI: Crime Scene Investigation, Prison Break and Drop Dead Diva. She played Lizzie Sparks in episode 16, season 6 of the TV show Criminal Minds.
Since 2009, she has had a recurring role as Carole Hudson, the on-screen mother of Finn Hudson, in the FOX series Glee. Her character is married to Burt Hummel (portrayed by Mike O'Malley, who also guest starred as Nick Augustine in "Kin")
Personal Life
Edit
Rosemont is married to American actor Stephen Root. The marriage is Root's second, and he has a son from his previous marriage. The couple were due to appear on-screen together in the 2011 horror film Red State, but Rosemont was forced to pull out due to a scheduling conflict with Glee. They both appeared in a 2011 episode of Fringe.
Ad blocker interference detected!
Wikia is a free-to-use site that makes money from advertising. We have a modified experience for viewers using ad blockers

Wikia is not accessible if you've made further modifications. Remove the custom ad blocker rule(s) and the page will load as expected.