Rolando Molina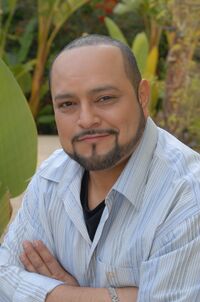 Name
Rolando Alberto Argueta-Molina
Birthplace
San Salvador, El Salvador
Birthdate
August 13, 1971
Rolando Molina - born Rolando Alberto Argueta-Molina on August 13, 1971 (1971-08-13) (age 46) in San Salvador, El Salvador - is an actor. He has a recurring role as Aguilar in the fifth and sixth season of Justified.
Mini Biography
Edit
Rolando Molina was born Rolando Argueta-Molina in San Salvador, El Salvador, and came to the U.S. at a very young age along with his single mother Ana and younger brother Mario. Rolando and his family struggled to pursue the American dream. All three stayed with family and friends and finally settled down in the suburbs of North Hollywood, California. He attended North Hollywood High School and grew up with the magic of the movies and television.
Determined to break into the industry he had grown to love, after graduation Rolando took a job as a security guard at Universal Studios. One day while working the truck gate, a man driving a Porsche 911 with Florida plates drove up to the gate. It turned out to be Edward James Olmos, who was on the Universal lot to begin production on his gritty film American Me (1992). Olmos saw something in Rolando that caught his attention. A few days later Rolando was approached by Olmos' casting director, who asked him to audition for this film. He did and booked the part, making "American Me" was Rolando's acting debut.
Ad blocker interference detected!
Wikia is a free-to-use site that makes money from advertising. We have a modified experience for viewers using ad blockers

Wikia is not accessible if you've made further modifications. Remove the custom ad blocker rule(s) and the page will load as expected.