Robin Riker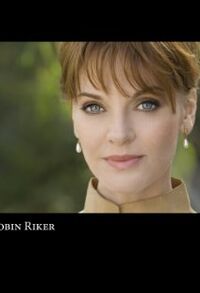 Birthplace
Manhattan, New York
Birthdate
October 2, 1952
Robin Riker, born on October 2, 1952 (1952-10-02) (age 64) in Manhattan, New York, USA, is an actress. She guest stars as Deborah Jane in the fourth season episode, "Money Trap".
She has guest-starred in a number of notable television series, including The Rockford Files, M*A*S*H, The A-Team, Airwolf, Murder, She Wrote, Sliders, Reba, Malcolm in the Middle, Pyramid, Six Feet Under, Buffy the Vampire Slayer, Sabrina, the Teenage Witch among other series. She also appeared in the films Stepmonster (the titular role), Brink!, Don't Look Under the Bed, Alligator and Convincing Clooney.
A noteworthy role was that of waitress Kelly Hall on the Showtime sitcom Brothers from 1984 to 1987. She also appeared as Chris Elliott's friend's wife and enemy on the sitcom Get a Life and starred opposite Edward Asner and Haley Joel Osment on the ABC sitcom Thunder Alley as Bobbi Turner replacing Diane Venora in the role.
In May 2008, she signed a contract for the CBS soap opera The Bold and the Beautiful in the recast role of Beth Logan. Her first appearance was on June 18, 2008. This marked her second daytime drama series. In 2000, she played the role of Maureen "Bonnie" Lockhart on the NBC daytime drama Days of Our Lives. The role was later played by Judi Evans.
Ad blocker interference detected!
Wikia is a free-to-use site that makes money from advertising. We have a modified experience for viewers using ad blockers

Wikia is not accessible if you've made further modifications. Remove the custom ad blocker rule(s) and the page will load as expected.