Robert Mukes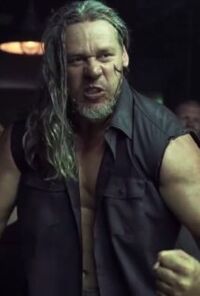 Birthplace
Indianapolis, Indiana
Robert Mukes
- born Robert Allen Mukes on March 14, 1964 in Indianapolis, Indiana, USA - is an extra and stuntman extra. He co-stars as
Cell Mate
in the
sixth season
episode "
Fugitive Number One
". He has appeared in series such as
Weeds
,
Person of Interest
,
The Mindy Project
,
Veronica Mars
and
She Spies
. Mukes played professional basketball in Europe until age 30, then trained for pro-wrestling.
[1]
His time in that career field was cut short due to injuries sustained when attempting professional belly dancing.
Known for his expert use of masks and versatile face painting, "The Chamaleon" has been involved in recurring roles as an extra but has been critically praised for his emotional depth in interpreting trees, furniture and lamp posts. One time he refused the role of the talking dresser for ''The Beauty and the Beast'', "it just didn't feet real at the time" Mukes said.
One remarkable part of his career, was back when recording "Coffin 2" he forgot to bring his mask to the set and after failing to confirm his identity was banned from studios. This caused mayor controversy among producers because he was casted as the main extra for the movie, and they had to CGI him into missing scenes.
Since 2015, Robert has been actively involved in impulsing local talent by teaching the arts of excelling as a movie extra.