Rebekah Brandes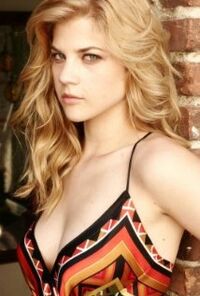 Birthplace
Detroit, Michigan
Rebekah Brandes - born on June 28, 1985 (1985-06-28) (age 32) in Detroit, Michigan, USA - is an actress. She co-stars as Winston in the sixth season episode "The Trash and the Snake".
Rebekah Brandes left her home in Baltimore, Maryland for Hollywood at 18 to attend the renowned American Academy of Dramatic Arts. After graduating she soon began appearing on TV shows such as NCIS, Criminal Minds, Greek and The Forgotten, but it was the film world that really pulled her in. Rebekah gained attention for her breakout performance in the 2011 Sundance film festival premiere of Bellflower, a film Rolling Stone called "a thing of toxic beauty". Her first lead role came three years earlier in the award-winning Midnight Movie, gaining her a Best Actress nomination by the Chicago Horror Film Festival. Rebekah has three films yet to be released, the debut film by Slash of Guns N' Roses, Nothing left to Fear, also starring Anne Heche and Ethan Peck, as well as April Apocalypse with Reece Thompson, and Fluidic, a sci-fi thriller. An avid animal rights activist, Rebekah has three dogs and runs a Los Angeles dog rescue called Ready Pet.
Ad blocker interference detected!
Wikia is a free-to-use site that makes money from advertising. We have a modified experience for viewers using ad blockers

Wikia is not accessible if you've made further modifications. Remove the custom ad blocker rule(s) and the page will load as expected.