Natalie Zea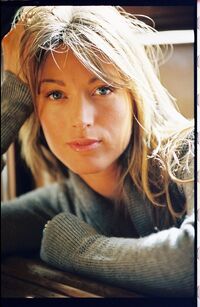 Birthplace
Harris County, Texas
Natalie Zea - born March 17, 1975 (1975-03-17) (age 42) in Harris County, Texas, USA - is an actress. She stars as Winona Hawkins in Justified. She was a member of the starring cast from the series pilot "Fire in the Hole" to the Season 3 finale "Slaughterhouse". She has been a member of the recurring cast since Season 4.
Biography
Edit
Born on March 17th 1975, in Harris County, Texas, Zea attended Monahans High School, graduating in 1993. She then graduated from The American Musical and Dramatic Academy in New York City.
Zea had a few small film roles before joining the cast of soap opera Passions in 2000 as Gwen Hotchkiss, replacing exiting actress Liza Huber. Zea left the show in 2002, and was replaced by Huber.
She has made several different guest appearances in primetime, guest starring on CSI: Crime Scene Investigation in 2001. In 2004 she recurred on the FX cop drama The Shield playing a love interest to Michael Chiklis' Vic Mackey, leaving the show for the short-lived ABC drama Eyes. Her next major role was on the ABC soap Dirty Sexy Money, playing spoiled socialite Karen Darling. Following the series' cancellation after two seasons, Zea recurred on the HBO series Hung.
Most recently, Zea portrayed high-powered defense lawyer Sarah Goodwin on Law and Order: Los Angeles. Zea's character defended a female oil rig worker (portrayed by Sprague Grayden) accused of murdering a co-worker. Zea had a starring role as Claire Matthews in the first two seasons of the Fox drama The Following.
References
Edit
Ad blocker interference detected!
Wikia is a free-to-use site that makes money from advertising. We have a modified experience for viewers using ad blockers

Wikia is not accessible if you've made further modifications. Remove the custom ad blocker rule(s) and the page will load as expected.