Michael Stoyanov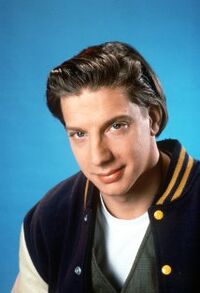 Birthplace
Chicago, Illinois
Birthdate
December 14, 1970
Michael Stoyanov, born on December 14, 1970 (1970-12-14) (age 46) in Chicago, Illinois, USA, is an actor. He had a recurring role as Dave in the fourth season.
Stoyanov was born in Chicago, Illinois to Macedonian parents. He is probably best known for his role in the situation comedy Blossom as oldest brother Anthony Russo. He left the show after several years to write for Late Night with Conan O'Brien, a move he later said he regretted. Stoyanov left Late Night within a year and went on to write briefly for Mad TV and Mr. Show. Stoyanov trained with the Chicago improvisational group Second City. He also guest starred in the second season Quantum Leap episode, "Another Mother," as Kevin Buckner, an aspiring teenage comedian who is kidnapped. He was cast as one of the Joker's goons in the 2008 film The Dark Knight.
Ad blocker interference detected!
Wikia is a free-to-use site that makes money from advertising. We have a modified experience for viewers using ad blockers

Wikia is not accessible if you've made further modifications. Remove the custom ad blocker rule(s) and the page will load as expected.