Michael Gladis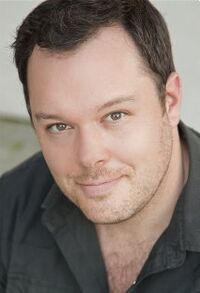 Name
Michael James Gladis
Birthplace
Houston, Texas
Birthdate
August 30, 1977
Michael Gladis, born Michael James Gladis on August 30, 1977 (1977-08-30) (age 39) in Houston, Texas, USA, is an actor. He guest stars as Kenneth Flix in the fourth season episode, "Money Trap".
Biography
Edit
Early Life
Edit
Michael was raised in small town Farmington, Connecticut, the son of a sales and marketing executive. He graduated from Farmington High School in 1995. Inspiration for a life of acting originated from the time he spent volunteering for theater productions at Miss Porter's School, the internationally known all-girls school in town, where he knew male actors were needed. He started his college career at the SUNY School of Art Design at Alfred University before transferring to to State University of New York at New Paltz, from which he earned a B.A. in theatre in 1999.
He is best known for his role as Paul Kinsey on the television series Mad Men, where he appeared in the series' first three seasons, and as a guest star in the show's fifth season. Prior to Mad Men, he played Eugene Rossi in four episodes of Third Watch. He is currently co-starring in the Adult Swim comedy Eagleheart. Gladis appeared in an episode of Law & Order: Special Victims Unit titled "Branded" and in an episode of Leverage titled "The 15 Minute Job". He also provided the voice of Dudley Lynch in the game L.A. Noire and was Senior Seaman Yevgeny Borzenkov in the 2002 film K19: The Widowmaker.
Ad blocker interference detected!
Wikia is a free-to-use site that makes money from advertising. We have a modified experience for viewers using ad blockers

Wikia is not accessible if you've made further modifications. Remove the custom ad blocker rule(s) and the page will load as expected.