Max Perlich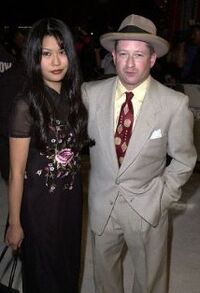 Birthplace
Cleveland, Ohio
Max Perlich (Pictured on right in infobox) - born on March 28, 1968 (1968-03-28) (age 49) in Cleveland, Ohio, USA - is an actor. He had a recurring role as Sammy Tonin in the FX series Justified.
Biography
Edit
He was born in Cleveland, Ohio. His mother was a teacher and his father, Martin Perlich, a writer and radio programming director and announcer, worked for a time with the Cleveland Orchestra. The Perlich family moved to Los Angeles, California when Max was four. He is left-handed.
Perlich's career began with a small part in Ferris Bueller's Day Off, which came after he had dropped out of high school in the 10th grade Thus began his appearances in a series of bit parts on television and in teen films such as Can't Buy Me Love (1987), Plain Clothes (1988) and Lost Angels (1989). His roles usually were of the slacker or juvenile delinquent variety. As he outgrew the teen genre, his later performances, although still minor, were distinguished by eccentricity and twitchy, nervous energy, fully realized in the films Gleaming the Cube (1989) and Drugstore Cowboy (1989). He has appeared in supporting roles in films such as Rush (1991), Cliffhanger (1993), Maverick (1994), Georgia (1995), Blow (2001) and The Missing (2003). Along with his continuing work in films, he has had recurring roles in television shows such as Homicide: Life on the Street (1997), Buffy the Vampire Slayer (1998), My Name Is Earl (2006), and Terminator: The Sarah Connor Chronicles (2008). He is also featured in the music videos "No Excuses" by Alice In Chains and "Naked Eye" by Luscious Jackson.
Former Homicide co-star Clark Johnson tells of how Perlich was a "wacky" guy, and was involved in a gun-related incident in front of his home in Baltimore over a parking spot. Johnson also notes Perlich made the cast laugh at things he wasn't trying to be funny about, and how the car Perlich drives in the episode "The Hat" was Perlich's personal street car at the time.
Ad blocker interference detected!
Wikia is a free-to-use site that makes money from advertising. We have a modified experience for viewers using ad blockers

Wikia is not accessible if you've made further modifications. Remove the custom ad blocker rule(s) and the page will load as expected.