Maggie Lawson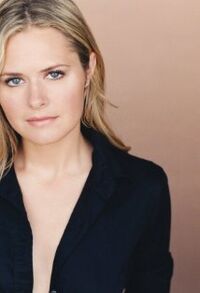 Birthplace
Louisville, Kentucky
Birthdate
August 12, 1980
Maggie Lawson - born Margaret Lawson on August 12, 1980 (1980-08-12) (age 37) in Louisville, Kentucky - is an American actress who guest starred as Layla in the FX series Justified Season 3 episode, "Thick as Mud".
Life and Career

Edit
Lawson was born in Louisville, Kentucky, the daughter of Judy, a homemaker, and Mike Lawson, a hotel manager. She attended Assumption High School, an All-Girls Catholic school, and then studied theater at the University of Louisville. She is of Irish descent. In 2000 she starred in Model Behavior, an ABC-TV movie featuring Justin Timberlake. She has also made guest appearances on television series such as Smallville and Fear Itself. She was recently the star of a play called 'Greedy,' directed by James Roday, which played for a few weekends in Los Angeles. She now co-stars in the USA Network original series, Psych, as Junior Detective, Juliet O'Hara. She has been in a relationship with Psych co-star, James Roday, since 2006. Lawson has also starred in the sitcoms Inside Schwartz, It's All Relative, and Crumbs.
External Links
Edit
Ad blocker interference detected!
Wikia is a free-to-use site that makes money from advertising. We have a modified experience for viewers using ad blockers

Wikia is not accessible if you've made further modifications. Remove the custom ad blocker rule(s) and the page will load as expected.