Karly Rothenberg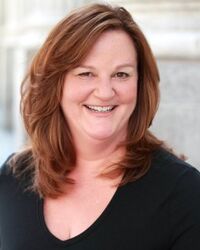 Birthplace
Denver, Colorado
Birthdate
October 29, 1962
Karly Rothenberg - born on October 29, 1962 (1962-10-29) (age 54) in Denver, Colorado - is an American actress who co-starred as an unnamed Nurse in the FX series Justified Season 3 episode "Guy Walks Into a Bar".
Biography

Edit
Karly was born and raised in Denver, Colorado and has been a theater bug ever since she was a little girl. She followed her mom around Denver's well known Bonfils Theater, which later closed when it became part of the Denver Center for the Performing Arts. Karly trained in New York and Los Angeles and began her professional career with her first Summer Stock job at the famed "Totem Pole Playhouse" in Pennsylvania, under the direction of William Putch. Two years later, she met her mentor and long time friend, Avery Schreiber, and studied Improvisational Theater with Avery until his passing in 2001. She is thrilled that she has been a part of so many wonderful projects. Her favorite role to date was playing a recurring guest star role as Miguel Ferrer's secretary on "The Protector," as well as the beloved (well maybe not beloved) dock worker Madge, on NBC's hit show, "The Office." Karly also has a successful voice acting career and is quite proud to have been one of many women who booked a famed spot on the California Cow commercials!
Ad blocker interference detected!
Wikia is a free-to-use site that makes money from advertising. We have a modified experience for viewers using ad blockers

Wikia is not accessible if you've made further modifications. Remove the custom ad blocker rule(s) and the page will load as expected.