Joshua Biton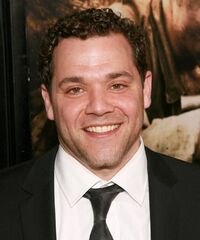 Birthplace
Queens, New York, USA
Birthdate
December 19, 1973
Joshua Biton
- born on December 19, 1973 in Queens, New York - is an American actor who had a guest role as
Lucky
in the FX series
Justified
first season
episode, "
Fathers and Sons
".
Biography
Edit
Joshua Biton grew up in New York City and, most recently, returned from Australia, having worked on Steven Spielberg and Tom Hanks' mini-series, The Pacific (2010), which is a follow-up to the World War II miniseries Band of Brothers (2001). Justified show runner Graham Yost was a writer for The Pacific. Along with various roles in film and television, Josh has worked extensively in the theatre, including Off-Broadway productions of "Romeo and Juliet", "The Seagull" and "The Crumple Zone". Regionally, he has worked at the Repertory Theatre of St. Louis, Pioneer Rep, Capital Rep, STW, Centennial Theatre, The Hangar and Studio Arena. He received his MFA from Rutgers University and attended Stuyvesant High School.
Ad blocker interference detected!
Wikia is a free-to-use site that makes money from advertising. We have a modified experience for viewers using ad blockers

Wikia is not accessible if you've made further modifications. Remove the custom ad blocker rule(s) and the page will load as expected.