John Ruby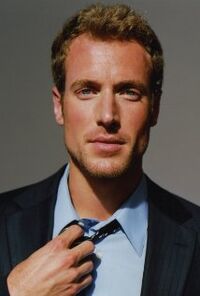 Birthplace
Milwaukee, Wisconsin
Birthdate
September 4, 1977
John Ruby - born John Jacob Ruby on September 4, 1977 (1977-09-04) (age 39) in Milwaukee, Wisconsin, USA is an actor. He has a supporting role as a KSP Officer in the sixth season episode "Sounding".
John Ruby grew up in Pewaukee, Wisconsin and graduated from Arrowhead High School in Hartland, Wisconsin. He then studied at Northwestern University in Evanston, Illinois. After graduating, John worked in Chicago as a consultant and a grade-school tutor. Wanting a change of scenery, John packed his car with all his belongings and moved to Los Angeles. Once in LA, John became heavily involved with the acting and improv community. He started taking classes with such teachers as Anthony Meindl, Ivana Chubbuck and Sandy Marshall. He also got involved with improv and started performing at IO West on the Harold team "Liquor, Guns and Ammo." Since then, John has shifted his focused to television, film and theater. He recently appeared on such TV shows as Cougar Town, Happy Endings, The Event, and Perfect Couples. His feature film credits include Ricky and Touch. Touch had its world premiere at the Boston International Film Festival and also won the Audience Choice award at the Vietnamese International Film Festival. On stage, John has performed in such plays as Heaven Can Wait, The Sting, Conversation Storm, and The Maiden's Prayer. John wrote, directed and produced his first film, Endgame, which screened at the prestigious Beloit International Film Festival. In what little free time he has left, John enjoys traveling, playing basketball, and reading.
Ad blocker interference detected!
Wikia is a free-to-use site that makes money from advertising. We have a modified experience for viewers using ad blockers

Wikia is not accessible if you've made further modifications. Remove the custom ad blocker rule(s) and the page will load as expected.