Jeff Bowser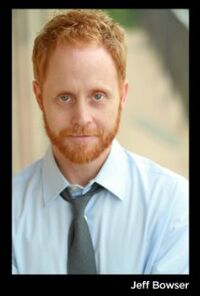 Birthplace
Sheboygan, WI ( though he avoids discussing it)...
Jeff Bowser is an actor. He co-stars as Surly Patron in the fifth season episode, "Kill the Messenger". He has appeared in series such as Anger Management, New Girl, Legit, The Young and the Restless, Everybody Hates Chris, The Shield, Cold Case, Malcolm in the Middle, and The X-Files.
Ad blocker interference detected!
Wikia is a free-to-use site that makes money from advertising. We have a modified experience for viewers using ad blockers

Wikia is not accessible if you've made further modifications. Remove the custom ad blocker rule(s) and the page will load as expected.