Jason Gray-Stanford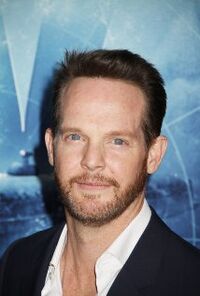 Birthplace
Vancouver, Canada
Jason Gray-Stanford - born on May 19, 1970 (1970-05-19) (age 47) in Vancouver, British Columbia, Canada - is an actor. He guest stars as Dilly Crowe in the fifth season episode, "A Murder of Crowes".
Gray-Stanford earned a BFA degree from the University of British Columbia in theatre. He has done extensive dubbing work for various Japanese anime movies and series, and also contributed background vocals to Russell Crowe's 30 Odd Foot of Grunts album Gaslight. He played Deputy Bobby Michan in the 1999 movie Mystery Alaska and appeared in the 2001 movie A Beautiful Mind, both starring Crowe. He appeared in the 2006 Clint Eastwood film, Flags of our Fathers as Lieutenant Schrier.
He was the voice of Kento Rei Faun in the anime Ronin Warriors, and the original English voice of Raditz and Cui in the Ocean Group dub of Dragonball Z, as well as the voice of Shinnosuke in the English dub of Ranma 1/2 and the voice of Joe Higashi in the Fatal Fury OVAs and film. He also appeared on an episode of Stargate SG-1.
Jason Gray-Stanford is also known as the first voice of Yusaku Godai in Maison Ikkoku. However, after episode 36, the dubbing of the series was halted due to poor sales, during which the dubbing company lost contact with Gray-Stanford as well as several other actors. Since episode 37, Godai has been voiced by Brad Swaile. Gray-Stanford also voiced Donatello (Teenage Mutant Ninja Turtles) in the 1996 TV series, Ninja Turtles: The Next Mutation.
Gray-Stanford is also best known for his role as Lieutenant Randy Disher in the USA comedy-drama series Monk. He also appeared in a recurring role as hospital lawyer Scott Henderson in the TNT medical drama Monday Mornings.
Ad blocker interference detected!
Wikia is a free-to-use site that makes money from advertising. We have a modified experience for viewers using ad blockers

Wikia is not accessible if you've made further modifications. Remove the custom ad blocker rule(s) and the page will load as expected.