James Kyson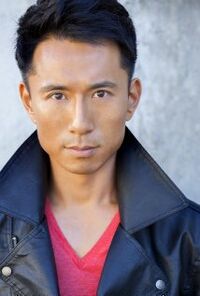 Birthplace
Seoul, South Korea
Birthdate
December 13, 1975
James Kyson - born on December 13, 1975 (1975-12-13) (age 41) in Seoul, South Korea - is an actor. He has a recurring role as Yoon in the fifth season.
Early Life
Edit
Kyson was born on December 13, 1975, in Seoul, South Korea. Kyson moved with his family to New York City at the age of 10, where he later attended the Bronx High School of Science. He studied communications at Boston University and the New England Institute of Art.
After a stint in a hip-hop rap group in college, and trying out improv comedy, James moved to LA on a one-way ticket & a single suitcase, where he began his training in music, dance, and acting.
Voted by TV Guide as "Hollywood's 25 Hottest", James recently finished Hawaii Five-O on CBS, and a 4-year run on NBC's Heroes as 'Ando'.
He will next be appearing in the new series Daybreak, from the producers of 24 & Touch (FOX), as well as the feature films PLUSH, directed by Catherine Hardwicke, the Romantic Comedy DON'T KNOW YET, the Action thriller CRITICSIZED, & the Race Car driving film BORN to RACE 2.
James currently recurs on the Political Series Chasing the Hill & will star in the new pilot Armed Response.
His first ever Television audition landed him on CBS's J.A.G.. Other TV credits CSI, NBC's Las Vegas, The West Wing, Heist, ABC's Threat Matrix, and FOX's All About the Andersons.
James has also starred in numerous feature films such as Star Runners, Shutter, How to Make love to a Woman, White on Rice, and the Rich Mullins bio-pic Ragamuffin.
James plays basketball for The Hollywood Knights, a charity celebrity team, and participated in Robbie Williams' Soccer Aid for UNICEF, at Manchester United's Old Trafford in England.
An avid outdoorsman, James enjoys scuba diving, ultimate frisbee, and playing basketball for the Hollywood Knights, a charity celebrity team for USO. He is also an active member of the Global Green eco campaign & the Creative Coalition.
Ad blocker interference detected!
Wikia is a free-to-use site that makes money from advertising. We have a modified experience for viewers using ad blockers

Wikia is not accessible if you've made further modifications. Remove the custom ad blocker rule(s) and the page will load as expected.