Jake Busey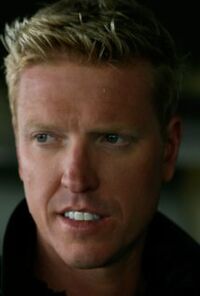 Birthplace
Los Angeles, California
Jake Busey - born William Jacob Busey on June 15, 1971 (1971-06-15) (age 46) in Los Angeles, California, USA - is an actor, musician and film producer. He guest stars as Lewis Mago in the sixth season episode "The Trash and the Snake".
Biography
Edit
Early Life
Edit
Busey was born in Los Angeles, and raised in Malibu, California, the son of photographer Judy Lynn Helkenberg, and actor Gary Busey. Busey spent his childhood on film sets and touring with bands in which his father played. He began considering his career choices at the age of five when he took up the two hobbies that grew into professions: acting and playing drums.
Busey's motion picture debut was in the 1978 film Straight Time with his father Gary and Dustin Hoffman. His two most notable appearances are as the murderous religious fanatic opposite Jodie Foster in Contact and as smart-mouthed soldier Ace Levy in Starship Troopers. He appeared in H. G. Wells' War of the Worlds, one of three 2005 film adaptations of the novel by H.G. Wells, alongside C. Thomas Howell. Additionally, he has had major roles in Tomcats opposite Jerry O'Connell and Shannon Elizabeth, in James Mangold's thriller Identity, with C. Thomas Howell in the The Hitcher II, Michael J. Fox in Peter Jackson's The Frighteners and Road House 2. Busey played the role of "Backfire" in Patrick Durham's movie Cross which was released directly to DVD and download in May 2011, and stars in the upcoming independent film Don't Pass Me By.
He has also had minor parts in films like Windrunner: A Spirited Journey starring Jason Wiles, Christmas with the Kranks starring Tim Allen, I'll Do Anything, Enemy of the State, The Killing Jar, The Stoned Age, PCU, and Fast Sofa with Jennifer Tilly and Natasha Lyonne. He also had a main role on the television show Shasta McNasty.
He also provided the voice of The Radioman in the 2012 video game Spec Ops: The Line.
Ad blocker interference detected!
Wikia is a free-to-use site that makes money from advertising. We have a modified experience for viewers using ad blockers

Wikia is not accessible if you've made further modifications. Remove the custom ad blocker rule(s) and the page will load as expected.