Ivo Nandi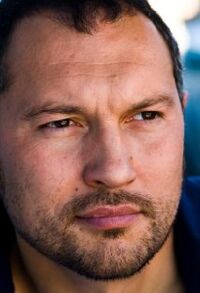 Ivo Nandi is an American actor who co-stars as a coyote in the FX series Justified first season episode "Long in the Tooth". He has also appeared in ER, E-Ring, Alias, Without a Trace, Andy Barker, P.I., Lincoln Heights, Cordially Invited, Monk, Weeds, CSI, Days of Our Lives, Lost, Undercovers, Lie to Me, Law & Order: Los Angeles, CSI: NY and House. He plays crime boss Joe Masserria in the HBO drama Boardwalk Empire and Oscar El Oso Ramos in the Final Season of Sons of Anarchy.
External links
Edit
Ad blocker interference detected!
Wikia is a free-to-use site that makes money from advertising. We have a modified experience for viewers using ad blockers

Wikia is not accessible if you've made further modifications. Remove the custom ad blocker rule(s) and the page will load as expected.