Frank Gallegos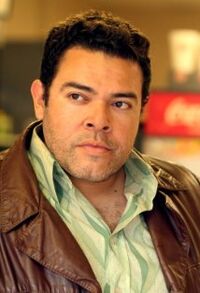 Birthplace
Los Angeles, California
Frank Gallegos - born on August 3, 1970 (1970-08-03) (age 47) in Los Angeles, California - is an American actor who co-starred as a Federale in the FX series Justified Season 3 episode, "When the Guns Come Out". Gallegos guest starred in the series Awake, Outlaw, The Mentalist, Castle, The Shield, Monk, Medium, and Ugly Betty. Gallegos appeared in the films House of Sand and Fog, Double Take, Jam, and Loco Love.
External Links
Edit
Ad blocker interference detected!
Wikia is a free-to-use site that makes money from advertising. We have a modified experience for viewers using ad blockers

Wikia is not accessible if you've made further modifications. Remove the custom ad blocker rule(s) and the page will load as expected.