Ezra Buzzington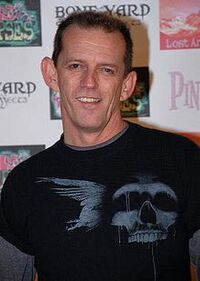 Birthplace
Muncie, Indiana
Ezra Buzzington - born Jonathan Harris in Muncie, Indiana - is an American character actor who guest starred as Roy the Bartender in the FX series Justified first season episode "Fathers and Sons". He also co-starred as Harvey Jones in the third season episodes "Loose Ends" and "Guy Walks Into a Bar" of the same series.
He is one of three actors (along with Boo Arnold and James Logan) to portray two different characters in Justified. 
With over 50 film credits to his name, Ezra Buzzington has been referred to as "the Dennis Hopper of underground cinema". He's played characters ranging from "Weird Al the Waiter" in Ghost World to "Goggle" in The Hills Have Eyes. He's worked with directors David Fincher (twice), Alexandre Aja (twice), Terry Zwigoff (twice), Rob Zombie (twice), Christopher Nolan, Paul Thomas Anderson, George Clooney, Clint Eastwood and the Farrelly Brothers (also twice). He's known as a chameleonic risk-taker who embraces a role without regard to the character's politically incorrect characteristics. "It's always about the script and the director." He has said. "I'll play roles other people shy away from because I believe these underbelly characters really need a voice."
Ad blocker interference detected!
Wikia is a free-to-use site that makes money from advertising. We have a modified experience for viewers using ad blockers

Wikia is not accessible if you've made further modifications. Remove the custom ad blocker rule(s) and the page will load as expected.