Dale Dickey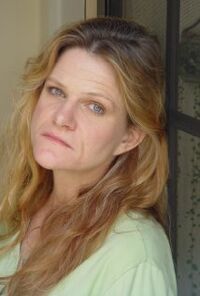 Birthplace
Knoxville, Tennessee
Birthdate
September 29, 1961
Dale Dickey - born Diana Dale Dickey on September 29, 1961 (1961-09-29) (age 55) in Knoxville, Tennessee, USA - is an actress. She had a recurring role as Judith in the fifth season.
Biography
Edit
Diana Dale Dickey was born in Knoxville, Tennessee, and graduated from Bearden High School in Knoxville. She played several roles in High School productions, notably as Emily in Our Town. She later attended the University of Tennessee.
Dickey has been working as a character actress in both mainstream and independent films since the 1990s. She is known for her recurring roles as Patty on NBC comedy series My Name Is Earl and as Opal McHone in CBS historical drama Christy. Dickey has had several roles in films such as The Pledge, Our Very Own, Domino, Super 8, Being Flynn and The Guilt Trip. She performed on many Broadway productions, like The Merchant of Venice (1989) and A Streetcar Named Desire (2009). Dickey has appeared in guest roles on numerous television series, including The X-Files, Frasier, CSI: Crime Scene Investigation, Gilmore Girls, The Closer, Grey's Anatomy and Breaking Bad.
Dickey received critical praise for performance in 2010 independent drama film Winter's Bone opposite Jennifer Lawrence. She won the Independent Spirit Award for Best Supporting Female for her performance as Merab in Winter's Bone on February 2011. In 2012 she plays Martha Bozeman in the fifth and sixth seasons of the HBO series True Blood. Dickey appeared in the superhero film Iron Man 3, directed by Shane Black in 2013. She also was cast in Bonnie and Clyde: Dead and Alive miniseries in 2013.
Ad blocker interference detected!
Wikia is a free-to-use site that makes money from advertising. We have a modified experience for viewers using ad blockers

Wikia is not accessible if you've made further modifications. Remove the custom ad blocker rule(s) and the page will load as expected.