Chad Todhunter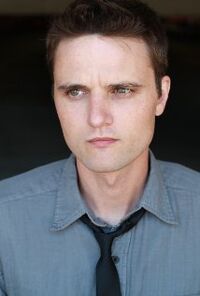 Birthplace
Vancouver, British Columbia
Birthdate
September 22, 1976
Chad Todhunter
- born on September 22, 1976 in Vancouver, British Columbia, Canada - is an actor. He has a recurring role as
Deputy Stiles
in the
sixth season
.
Biography
Edit
Most recently seen in the blockbuster film "Captain America: The Winter Soldier" Canadian born actor, Chad Todhunter, began his career as a member of the Vancouver Youth Theatre. Whether on stage, television or the big screen, Todhunter has been working steadily in the entertainment industry since the age of thirteen. Best know for his portrayal of Cody, actress Lacey Chabert's love interest on Fox's Party of Five, Chad has guest starred on most of today's hit dramas. He has been seen in more than thirty television shows including Showtime's Dexter, opposite Michael C. Hall and John Lithgow, CBS' The Mentalist, NCIS, CSI: NY, Shark, and Without a Trace. Chad was a series regular on NBC's LAX and played opposite Jimmy Smits in the CBS series Cane. In addition to his work on television, Chad has also starred in the feature films "Never Been Kissed", with Drew Barrymore, and "Brokedown Palace" with Claire Danes and Paul Walker. The film "What's Cooking," in which he starred along with Julianna Margulies, Kyra Sedgwick and Alfre Woodard, was featured at the Sundance Film Festival. Additionally, Chad starred in the successful horror film, "Penny Dreadful", part of the inaugural "8 Films to Die For" series. Todhunter was featured as the sociopath UNSUB, Greg Phinney, on the CBS series Criminal Minds. While portraying Cole Phelphs' former friend and key antagonist, Courtney Sheldon, in the recently released video game "LA Noire" for Rockstar Games, Chad can also be seen in a recurring role on the hit HBO series True Blood.
Ad blocker interference detected!
Wikia is a free-to-use site that makes money from advertising. We have a modified experience for viewers using ad blockers

Wikia is not accessible if you've made further modifications. Remove the custom ad blocker rule(s) and the page will load as expected.