Casey Sander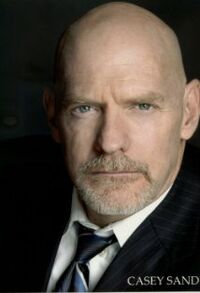 Name
Casey Clinton Sander
Birthplace
Washington, D.C.
Casey Sander - born Casey Clinton Sander on July 6, 1956 (1956-07-06) (age 61) in Washington, D.C. - is an American actor who had a recurring role as Charlie Weaver in the second and third season of the FX series Justified.
Biography
Edit
Early life
Edit
Sander was born in Washington, D.C. on July 6th, 1956. His father was an Air Force lieutenant colonel.
Sander has guest starred in the series CSI: NY, Harry's Law, The Mentalist, Sons of Anarchy, Rules of Engagement, The Glades, Las Vegas, NCIS, and Criminal Minds.
Sander had recurring roles in the series Tucker, Home Improvement, Grace Under Fire, Justified, The Big Bang Theory, The Middle, Boomtown, Studio 60, and Mystery Woman.
Sander played Minor League Baseball in the Angels organization with teams in Idaho and Iowa before injuries caused him to be released.
Sander gave up a Football scholarship to the University of Washington and Washington State University to pursue Major League Baseball.
Richard Karn and Casey attended Nathan Eckstein Junior High in Seattle together, though Richard was a year behind. Richard told Casey about their shared past while on the set of Home Improvement (1991).
External Links
Edit
Ad blocker interference detected!
Wikia is a free-to-use site that makes money from advertising. We have a modified experience for viewers using ad blockers

Wikia is not accessible if you've made further modifications. Remove the custom ad blocker rule(s) and the page will load as expected.