Bobby Campo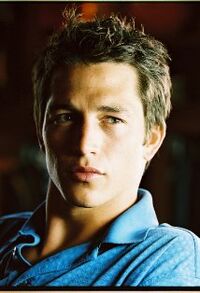 Name
Robert Joseph Camposecco
Birthplace
Wheeling, West Virginia
Bobby Campo, born Robert Joseph Camposecco on March 9, 1983 (1983-03-09) (age 34) in Wheeling, West Virginia, USA, is an actor. He guest stars as Yolo in the fourth season episode, "Decoy".
Biography
Edit
Life and Career
Edit
Campo was born in Wheeling, West Virginia, and raised in St. Petersburg, Florida. His father, Robert Camposecco, Sr., works as a painting contractor while his mother, Donna (née Wells), is a make-up artist who has worked for various celebrities. His paternal grandfather, Bob Campo, was a former radio personality in Wheeling and he has a younger sister named Julia Marie who is married to Stephen Christian of the band Anberlin. Campo is an alumnus of Seminole High School and was a student at the Performers Studio Workshop in Tampa, Florida.
Some of his favorite actors, whom he also aspires to work with, include Johnny Depp and Robert Downey, Jr. He regards both actors to be fantastic and admires them for their uniqueness and interesting works. He also looks up to the late Paul Newman. Campo is also interested in making his own movies and finds inspiration in director David Fincher. In October 2009, he appeared in the cover of Throne Magazine and was also featured in the March 2010 issue of L'Uomo Vogue. Campo as featured in the March 2010 issue of L'Uomo Vogue
In early 2012, Campo was cast for a recurring role in the third season of the supernatural drama TV series Being Human. He is currently playing the role of Max, a young-looking mortician who runs his own business and works extra hard to gain credibility.
He indulges himself in rock climbing, cycling, and soccer and loves listening to music to conduce his creativity, especially when at work.
Ad blocker interference detected!
Wikia is a free-to-use site that makes money from advertising. We have a modified experience for viewers using ad blockers

Wikia is not accessible if you've made further modifications. Remove the custom ad blocker rule(s) and the page will load as expected.