Aubrey Wood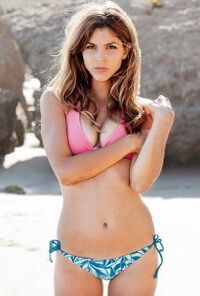 Birthplace
New Haven, Connecticut
Aubrey Wood - born in New Haven, Connecticut, USA - is an actress. She has a recurring role as Mina.
Biography
Edit
Aubrey Wood was born in New Haven, Connecticut. She is the daughter of Nancy (an artist) and Michael (a mechanic and antique car dealer) Wood. After begging her parents to find her an agent at age 7, Aubrey began acting in commercials and theatre in New York alongside her 5 siblings. She worked at her father's small gas station and was also a competitive horseback-rider as a teenager. After high school, she attended film school at The School of Visual Arts in New York. Shortly after enrolling, Aubrey dropped out to pursue her love of acting in Los Angeles.
Ad blocker interference detected!
Wikia is a free-to-use site that makes money from advertising. We have a modified experience for viewers using ad blockers

Wikia is not accessible if you've made further modifications. Remove the custom ad blocker rule(s) and the page will load as expected.