Adrienne Frantz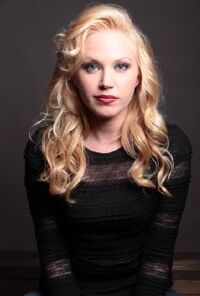 Name
Adrienne Danielle Frantz
Birthplace
Mount Clemens, Michigan
Adrienne Frantz - born Adrienne Danielle Frantz on June 7, 1978 (1978-06-07) (age 39) in Mount Clemens, Michigan, USA - is an actress and singer-songwriter. She guest stars as Candace in the fifth season episode, "Raw Deal".
First breaking into the soap opera genre in 1997 as Tiffany Thorne on Sunset Beach, Frantz left the show later that year for her role as the villainess turned sympathetic heroine Amber on The Bold and the Beautiful. In 2001, she won a Daytime Emmy for Outstanding Younger Actress. Frantz played the role on B&B until 2005, when she left to focus on a music career. From November 2006 to May 2010, she played Amber on The Young and the Restless. July 1, 2010 marked Amber's return to Los Angeles and to The Bold and the Beautiful.
Outside of B&B, Frantz made a guest appearance as a popstar named Emica in the 2001 Rugrats episode, All Growed Up, which later was the basis for the spinoff All Grown Up!. She played Claire Redfield in a commercial for Resident Evil 2, directed by George A. Romero, shown only in Japan. Frantz guest starred in an episode of That '70s Show, playing Fez's girlfriend Kelly. Frantz later appeared in Ed Gein: The Butcher of Plainfield.
Frantz dated Goo Goo Dolls frontman Johnny Rzeznik in the early 2000s, breaking it off in 2005. Frantz recently married her fiancé, Scott Bailey in California on November 11, 2011.
Ad blocker interference detected!
Wikia is a free-to-use site that makes money from advertising. We have a modified experience for viewers using ad blockers

Wikia is not accessible if you've made further modifications. Remove the custom ad blocker rule(s) and the page will load as expected.