A.J. Buckley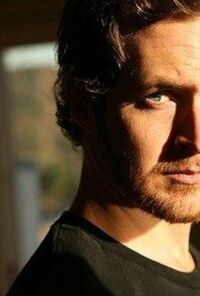 Birthplace
Dublin, Ireland
Birthdate
February 9, 1978
A.J. Buckley - born Alan John Buckley on February 9, 1978 (1978-02-09) (age 39) in Dublin, Ireland - is an actor. He had a recurring role as Danny Crowe in the fifth season.
Biography
Edit
Early Life
Edit
Buckley immigrated at the age of six with his family from Ireland to White Rock, British Columbia.
In his teens, Buckley began his acting career in the television series The Odyssey followed by guest starring roles in The X-Files and Millennium.
He also attended Saint Thomas More Collegiate; a high school in British Columbia.
Personal Life
Edit
Between 2007 and 2008 he was in a relationship with actress Sharni Vinson. Buckley proposed to his girlfriend of two years, Abigail Ochse on December 31, 2012 while on vacation in Hawaii. On September 3, 2013 Buckley announced they were expecting a baby girl. The couple welcomed daughter Willow Phoenix Buckley on January 19, 2014.
Buckley appeared in the 1998 thriller science fiction film, Disturbing Behavior, alongside actress Katie Holmes. In 2005, Buckley was offered the part of Adam Ross on the hit crime drama CSI: NY. The part was supposed to be a recurring role, but by the end of the show's third season in 2007 he was offered a five-year contract. Before receiving the role of Adam Ross, Buckley had appeared as a different character on the original CSI: Crime Scene Investigation in a 2004 episode.
In 2006, the film Jimmy and Judy was released, the first fully interactive 3D cyber world. When the CSI: NY episode featuring Buckley aired in 2006, director Randall K. Rubin called Buckley to discuss the success of an episode of CSI: NY, entitled "Down the Rabbit Hole" and the internet activity it had generated for Buckley. Harold Whaley, program director for Urban Network, suggested the idea of an in-world premiere featuring Buckley as a guest host and panelist for a post screening Q&A.
Buckley is the celebrity spokesperson for the Mantra Venture Group, an environmental technology company.
Ad blocker interference detected!
Wikia is a free-to-use site that makes money from advertising. We have a modified experience for viewers using ad blockers

Wikia is not accessible if you've made further modifications. Remove the custom ad blocker rule(s) and the page will load as expected.